About Pilleus™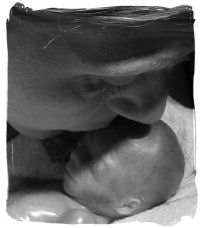 The idea for the hats came to me as I was grieving our precious little son Liten that was stillborn at 20 weeks, 2 days gestation. His head was so small and no baby clothes, not even preemie clothing would fit him. His body and skin was delicate which made putting clothes on a scary process. But there is something very profound about being able to put a hat on your baby and something that is done to live babies as soon as they have passed the initial checkups.
The "soft spots" (where the fontanels meet*) on the top of the baby's head is often visible on small babies and there can be bruising which can look amplified in pictures (this is why photographers often suggest taking, or converting pictures to, black and white). The Pilleus™ hat looks beautiful in pictures, color or black and white, as the texture of the knit adds warmth and softness to the pictures.
*There are often several "soft spots" present at birth. The smaller is the posterior fontanel, on the back part of the top of the head. The anterior fontanel is the one most parents recognize as the soft spot. It's on top of the head toward the front. Four bones come together at this spot, but, because of their rounded corners, they don't quite meet.
Pilleus means "small hat" in Latin
It was is a round felt hat with little or no brim lying close to the temples, the mark of fishermen, sailors and artisans in the Roman Empire.  The upper class wore iit only in the country or when travelling; but it was worn in Rome by the whole people of Sãturnãlia and by freedmen as a sign of their new position. It was placed on the head of slaves when sold as a sign that the vendor undertook no responsibility.

This coin is called "the Cap of Liberty" and was issued by Jun M. Brutus in Asia Minor, B.C. 44-42. The two daggers symbolize the assassination of Julius Caesar (one for Brutus and one for Cassius?). Between the daggers is the pilleus, a symbol of the liberty that Brutus claims he brought to Rome by assassinating Caesar. The inscription is an abbreviation for Eidibus (i.e., Idibus: ei for long i) Martiis, "on the Ides of March," the date on which the assassination took place in 44 BC.
Pilleus as a keepsake >>

**Excepts from Dictionary of Classical Antiquities pages 100, 490